Changeup: Meeting the New Phillies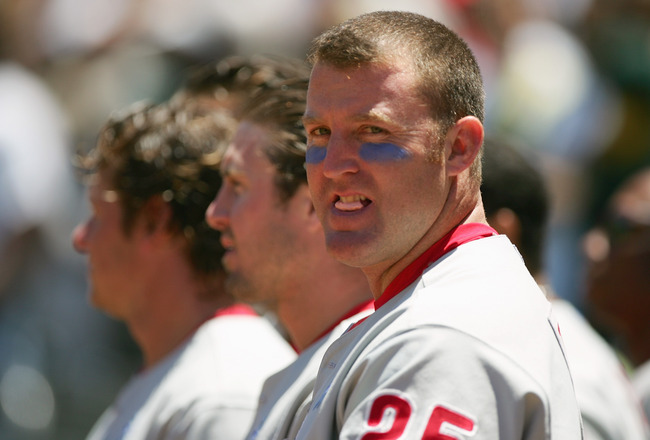 Jim Thome
Thome returns to the Phillies this year, along with his 604 career home runs, in search of his first World Series ring.
Thome had 15 home runs and 71 hits in 277 at bats for the Minnesota Twins and Cleveland Indians last year as a pinch  hitter and designated hitter.
The Phillies will look to use him in a "Matt Stairs" type of role, and will look for him to hit home runs coming off the bench. Thome could also see time at first base with Howard not expected back until at least May or early June.
I wouldn't be shocked if Charlie "pop-pop" Manuel sent Thome Flowers today for valentines day.
Jonathan Papelbon
The Phillies signed Papelbon this year to a $50 million contract instead of bringing back Ryan Madson as their closer for the next four seasons.
Papelbon brings an edge and "swagger" that most Philadelphians will grab onto and love. He also brings a career 1.00 ERA and 7 saves in the postseason.
Papelbon was 4-1 with 31 saves (3 blown saves) in 64.1 innings pitched for the Boston Red Sox last season.
Laynce Nix
Nix was brought in for an obvious platoon with John Mayberry Jr out in left field.
Signing Nix was also a way to stop the feeling the Phillies would have had when they were in need of a pinch hit and had only Ross Gload to call on. Does anybody else have those nightmares playing in their mind right now?
Nix has 64 career home runs, and 62 of them have come off of right-handed pitching. Look for Nix to be the man that's called on to start in left field when there is a righty on the mound.
Nix also excels in the field (if you are in doubt, check out the video of him robbing Dominic Brown last year.)
He will most likely be used as a left-handed bat off of the bench and will see a good amount of time in left field as well, and is also my choice if you are looking for a new Phillies shirsey/Jersey to purchase.
Chad Qualls
Does Qualls' name sound familiar?
It should. The Phillies were in talks with the San Diego Padres for a possible trade for him last year (along with Mike Adams and Heath Bell). Instead, they got a huge steal and signed him a few weeks ago to a one year, $1.15 million contract.
Qualls could become a very solid reliever and a more of a safety net for young reliever Mike Stutes and could be used in  6th and 7th inning situations.
Qualls was just 6-8, but posted a very solid 3.51 ERA last year with the Padres. I think this could turn out to be the biggest signing that the Phillies made all offseason if Qualls plays up to his potential.
I'm Tyler Brosious, or Brosh. I'm a  16 year-old junior at Lenape High School, and my real passion lies in Philly sports. Feel free to follow me on Twitter @brosh75 for Breaking Phillies news and everything Philly sports. Enjoy guys.
5 comments on "
Changeup: Meeting the New Phillies

"
Leave a Reply