Phillies Release Dontrelle Willis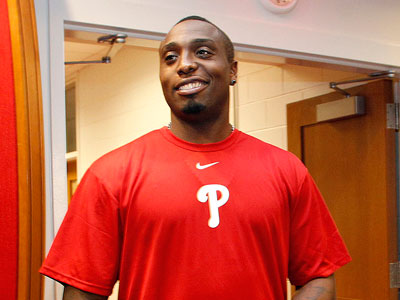 Well, that didn't last very long.
The Phillies released left-handed pitcher Dontrelle Willis this morning after he struggled in 3 Spring Training appearances out of the bullpen. Willis allowed 5 runs in just 2.2 innings this spring, with 4 walks and no strikeouts.
His ERA was an abysmal 16.87 in those appearances.
Many believed that Willis could be an effective left-handed specialist coming out of the bullpen, but his performance, combined with early arm soreness, have him searching for another team to pitch for already.
"We felt we had some guys that were probably further along than he was that had a chance to help us," pitching coach Rich Dubee said this afternoon.
The Phillies have several left-handed pitchers remaining at camp, including Jake Diekman, David Purcey, Joe Savery and Raul Valdes. However, the Phillies may opt to go with just one lefty out of the bullpen come April; Antonio Bastardo.
Bastardo, along with Jonathan Papelbon, Chad Qualls, Mike Stutes, David Herndon, and Kyle Kendrick, have all basically locked up spots in the Phillies bullpen. Right-handed pitchers Phillipe Aumont, Brian Sanches, and Michael Schwimer are all competing for the last spot in the bullpen with the lefties mentioned above.
Be sure to follow along on Twitter @CJBurns215
Leave a Reply